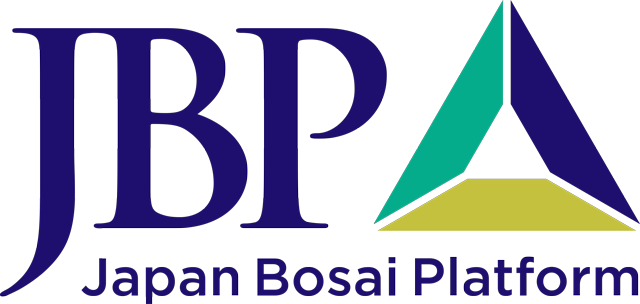 Bosai Solution ID : JBP00089

BSC (Biological Soil Crust)Method
One of the vegetation recovery methods in Japan to prevent slope erosion and facilitate the vegetation intrusion by seeds flying from the surrounding areas
Advantages
By intruding the existing vegetative species, adequate and suitable vegetation will be recovered, which are suitable for the target areas. As the soil algae used in this method inhabit all over the world: which is called a cosmopolitan species, the environmental impact to the indigenous species. Due to clonal propagation, there is no gene disruption. Implementation costs of the BSC method are cheaper in Japan compared to ordinal natural vegetation intrusion acceleration methods; e.g. vegetation mats/ sheets without seeds, and easier implementation methods, without additional works, such as slope leveling works, earth removal works/earth disposal works.
Solution Illustrated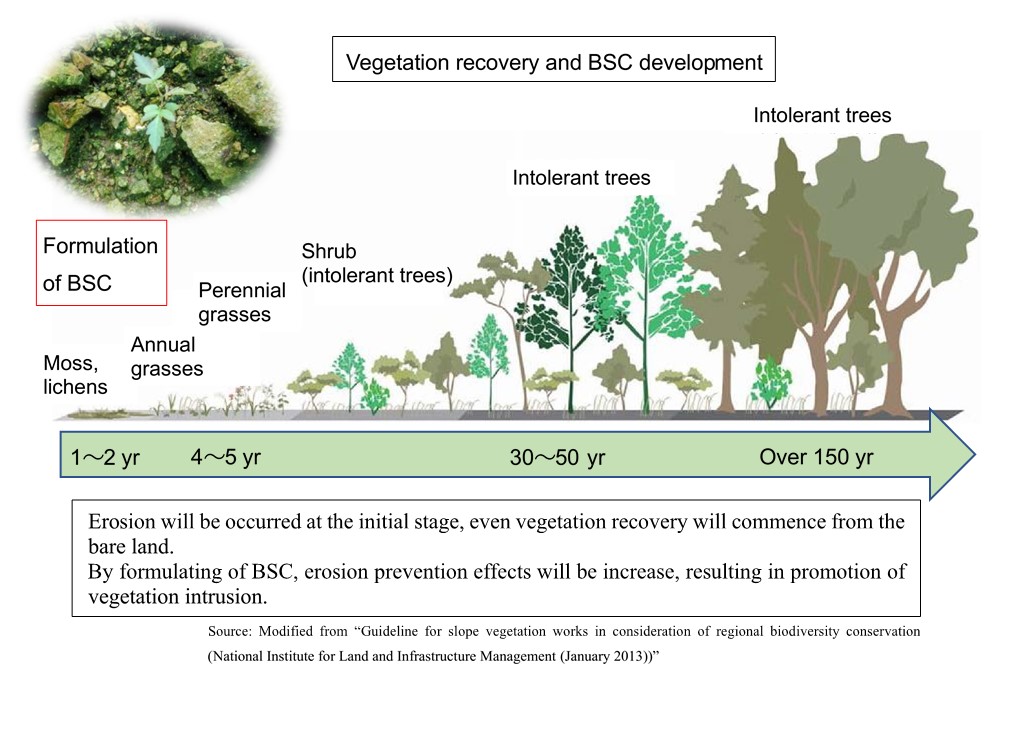 Background
BSC (Biological Soil Crust) is a sheet-like colony of soil microbes formulated by soil particles and fractures on the soil surface bound by the filamentous bacterium, soil algae, lichens, and moss. For the sites by ordinal natural vegetation implementation methods, the implemented areas are prone to be eroded and damaged by flowing water. Comparing with it, as the soil algae used in the BSC method well develop and grow especially along the water-flowing parts (i.e. rills, gullies), such algae in the BSC method can prevent from the expansion of erosion.
Exposition of the Solution
Obtained a patent right as Soil Erosion Prevention Method: Patent right No. 3718203 and No. 4412628 (Public Works Research Institute, Japan/ Nippon Koei Co., Ltd.)
PCT International Applications: July 2019 (by Nikken Sohonsha Corporation/ Nippon Koei CO., Ltd.)
Production of BSC-1 material: Nikken Sohonsha Corporation
Achievements of Examples
Slope failure along the forest road inside the Yambaru National Part, Okinawa Prefecture (in collaboration with Okinawa Prefectural Government Office)

Corporate Profile
5-4 Kojimachi, Chiyoda-ku, Tokyo 102-8539, JAPAN
Tel. : +81-3-5276-3596
E-mail : int.agx.n-koei.co.jp