JBP Member ID : M0046 Executive Member
Nippon Koei Co., Ltd.

Japan's No.1 International Engineering Consultants
Nippon Koei is Japan's No.1 International Engineering Consultants.
Our project managers and engineers provide strong engineering solutions for our clients by planning, designing and supervising construction of infrastructure projects in the fields of energy, transportation, resources, urban and public sector development.
Completed 5000 multi-disciplinary infrastructure projects in 150 countries across 70 years.
Nippon Koei is the oldest independent consulting firm in Japan. We have been providing consulting services for economic development projects since 1946.
Nippon Koei is listed on the First Section of the Tokyo Stock Exchange.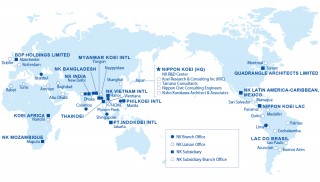 Industrial Classification / Corporate Specialty in the Classification
Engineering Consultant
Engineering service for Civil Engineering and Disaster Management
Bosai Speciality
Major Bosai Solutions
Analyzing disaster history, performing a highly accurate disaster hazard analysis, evaluating the physical conditions, socio-economic, and environmental features, and disaster vulnerability
Conducting disaster prevention activities and performing organization of disaster management system and crisis management plan.
Real-time monitoring, geological survey measurement & dynamics analysis
Design engineering, construction supervision
Performing measure plans for managing floods and sediment, comprehensive plans for crisis management and mobilization of local community resources
Corporate Profile
Nippon Koei Co., Ltd.
5-4 Kojimachi, Chiyoda-ku, Tokyo 102-8539, JAPAN
Tel. : +81-3-5276-3596
E-mail : int.agx.n-koei.co.jp
Website : http://www.n-koei.co.jp/english
Date of Establishment : June 7, 1946
Capital : ¥7,458,850,991 (As of October 25, 2019)
Numbers of Employees : 5,702 (consolidated), 2,397 (non-consolidated) (as of July 2020)
Countries of Office Location :
36 overseas offices https://www.n-koei.co.jp/english/profile/company/network/
Last update: 06 July, 2021