JBP Member ID : M0056 Executive Member
Remote Sensing Technology Center of Japan

Earth to you
RESTEC aims to establish remote sensing technologies as a form of social infrastructure through comprehensive research and development, raising of awareness, and human resource development in the field of remote sensing, and by doing so, contribute to the development of social economy and improvement of the people's lives. RESTEC uses this technology to obtain data and information from satellites, aircraft, automobiles, observation towers, ships, buoys, and other observation points.

-Minimizing Flood Damage by Ascertaining the Movement, Spread and Amount of Water
RESTEC provides solutions that match the needs of its customers, based on the knowhow it has accumulated through the reception, processing, analysis, and distribution of earth observation data within Japan and overseas.
Around 70% of disasters around the world can be attributed to water, such as through flooding. For successful rescue operations and in mitigating secondary disasters, quick and accurate ascertainment of such situations is an absolute must. SAR images allow observation even at night or in rough weather, to understand the movement, spread and amount of water. This not only contributes to emergency responses, mitigation of disasters and restoration work, but it can also contribute to risk aversion in disasters and in business.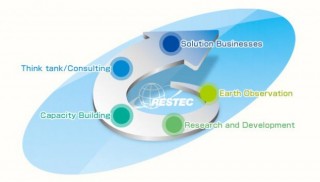 Industrial Classification / Corporate Specialty in the Classification
Research and Development, Solution Businesses
Providing Solutions for Disaster Risk Reduction
Bosai Speciality
Major Bosai Solutions
Monitoring natural disasters
Flood Information Service by using Satellite Image
Automatic landslide area detection Service by using Satellite Image
Land Subsidence and Deformation Monitoring Service for Social Infrastructure
Corporate Profile
Remote Sensing Technology Center of Japan
TOKYU REIT Toranomon Building 2F 3-17-1 Toranomon, Minato – ku, Tokyo 105 – 0001, Japan
Tel. : +81-3-6435-6700
E-mail : R-JBPrestec.or.jp
Website : https://www.restec.or.jp/en/
Date of Establishment : 1st August, 1975
Capital : 250,000,000 yen
Numbers of Employees : 151
Countries of Office Location :
Japan
Last update: 28 November, 2016