JBP Member ID : M0117 Regular Member
GIKEN SEKO CO., LTD.

New Methods Development Company
The predecessor of GIKEN SEKO was established in 1967 with an aim of achieving "Construction Mechanization" and "Pollution-free Construction". Currently, we possess high abilities of proposal, technical capabilities, and management abilities as a leading company of press-in method. GIKEN SEKO have implemented and disseminated an advanced press-in technology not only domestically but also overseas. We are developing a next-generation infrastructure based on disaster-resistant and eco-friendly implant structures, taking advantage of our superiority in the press-in principles. We aim to develop a business with a comprehensive package from planning and structural design to development of parts materials and machine system, construction, and maintenance.

Our strength lies with the eco-friendly press-in machines which can deal with a variety of ground conditions and restrictions, as well as with the position where we can provide high-quality constructions by press-in experts of disaster prevention/reduction. We also have a significant number of construction achievements overseas. We have contributed to the improvements of safety and earthquake-resistant measures of various structures, such as foundation works for bridges and bank protection works.
We would like to continue to take advantage of our press-in techniques to globally prevent and reduce disasters and to realize speedy recovery from disasters.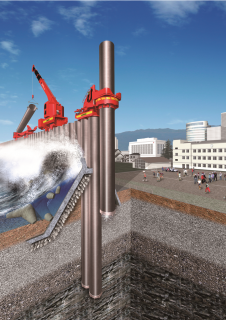 Industrial Classification / Corporate Specialty in the Classification
Press-in Execution for a Variety of Ground Conditions, Spaces and Piles
Construction Disaster-resistant and Eco-friendly Implant Structure by Press-in Method
Bosai Speciality
Major Bosai Solutions
Design and Construction of Resilient Implant Wall (Domestic・Oversea)
Resilient River Revetment and Seawall
Disaster-prevention Levee against Earthquakes and Tsunamis
Restraining Wall for Landslide Prevention
Seismic Reinforcement on Road, Railways and Bridge
Volcanic Ash Outflow Prevention after Eruption
Corporate Profile
GIKEN SEKO CO., LTD.
16F Ariake Central Tower, 3-7-18 Ariake, Koto-ku, Tokyo 135-0063, Japan
Tel. : +81-3-3528-1660
E-mail : murashimagiken.com
Website : http://www.gikenseko.co.jp/
Date of Establishment : 6 January 1978, in operation since 1967
Capital : 30 million Japanese Yen
Numbers of Employees : 140 / as of 31 July. 2019
Countries of Office Location :
Japan, Germany, The Netherlands, Singapore, China, The U.S.A. Australia
Last update: 29 July, 2019