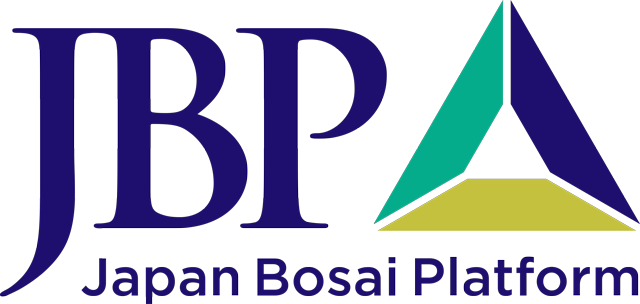 Bosai Solution ID : JBP00001

IMPLANT Levee
Highly Resilient Disaster Prevention Levee
Advantages
Implant Levee is the essential infrastructure to prevent disasters caused by tsunamis and earthquakes. As its deep-rooted "backbones" are integrated to the Earth, they are highly resistant to ground displacement caused by the motion of earthquakes, repeating tsunamis, and other external forces, serving as a "resilient" disaster-prevention infrastructure.
Solution Illustrated
Major Five Functions of Implant Levee
Implant Levee has major 5 functions as a "resilient" disaster-prevention infrastructure. They are illustrated below as a sample of effect of reinforcement with double sheet pile wall based on the research collaboration by Kochi Prefectural Government, Kochi University and GIKEN Ltd.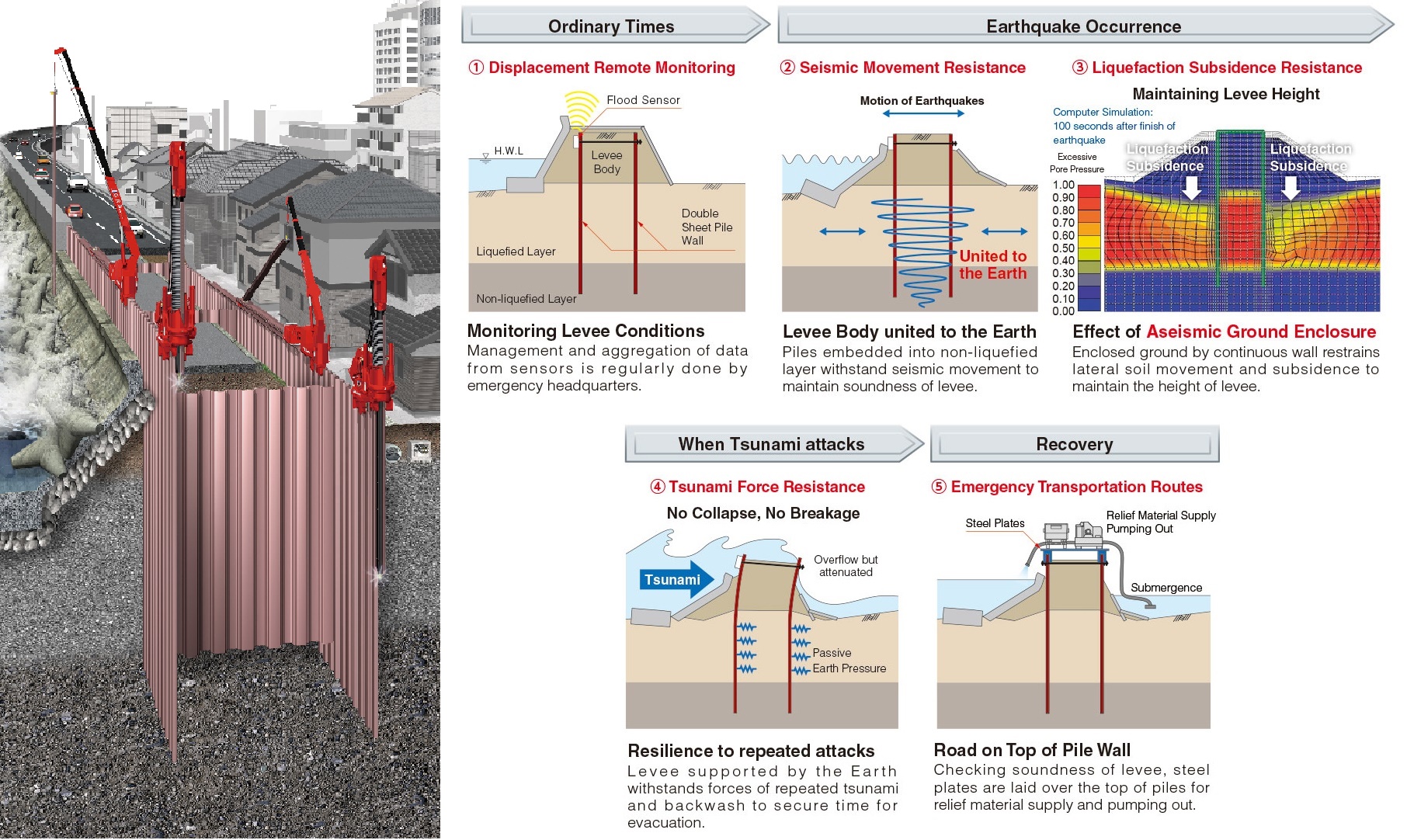 Background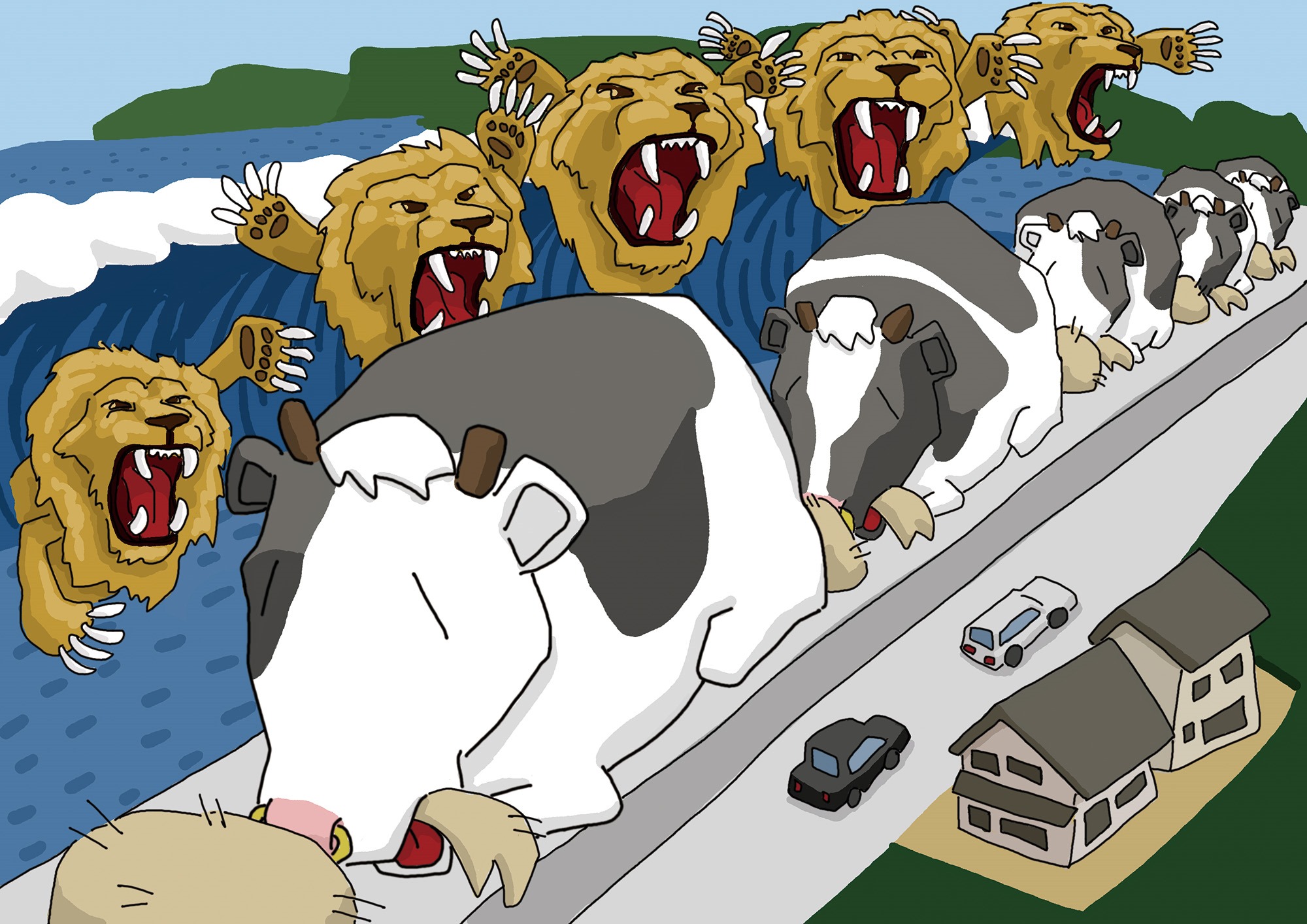 Conventional "Old-fashioned" Levee
Since ancient times, levees on rivers and coasts have been constructed by soils, stones or bricks on the ground. In modern times, big concrete blocks have come into use instead of soils but still they are just put on the ground. They can be illustrated as a row of sleeping cows (levees) against attack of lions (tsunamis).
Great East Japan Earthquake
In 2011, terrible power of nature shook the land and washed out a great number of conventional levees with the loss of 18,500 lives. We can't overlook the fact that disaster prevention infrastructures collapsed at their proudest moment to save lives from the actual disaster. Structures that are installed into shallow ground are mechanically vulnerable against external forces of earthquake and tsunami. We should never repeat such a man-made tragedy. If our Implant Levee were used, most of precious lives could be saved.



Structural Revolution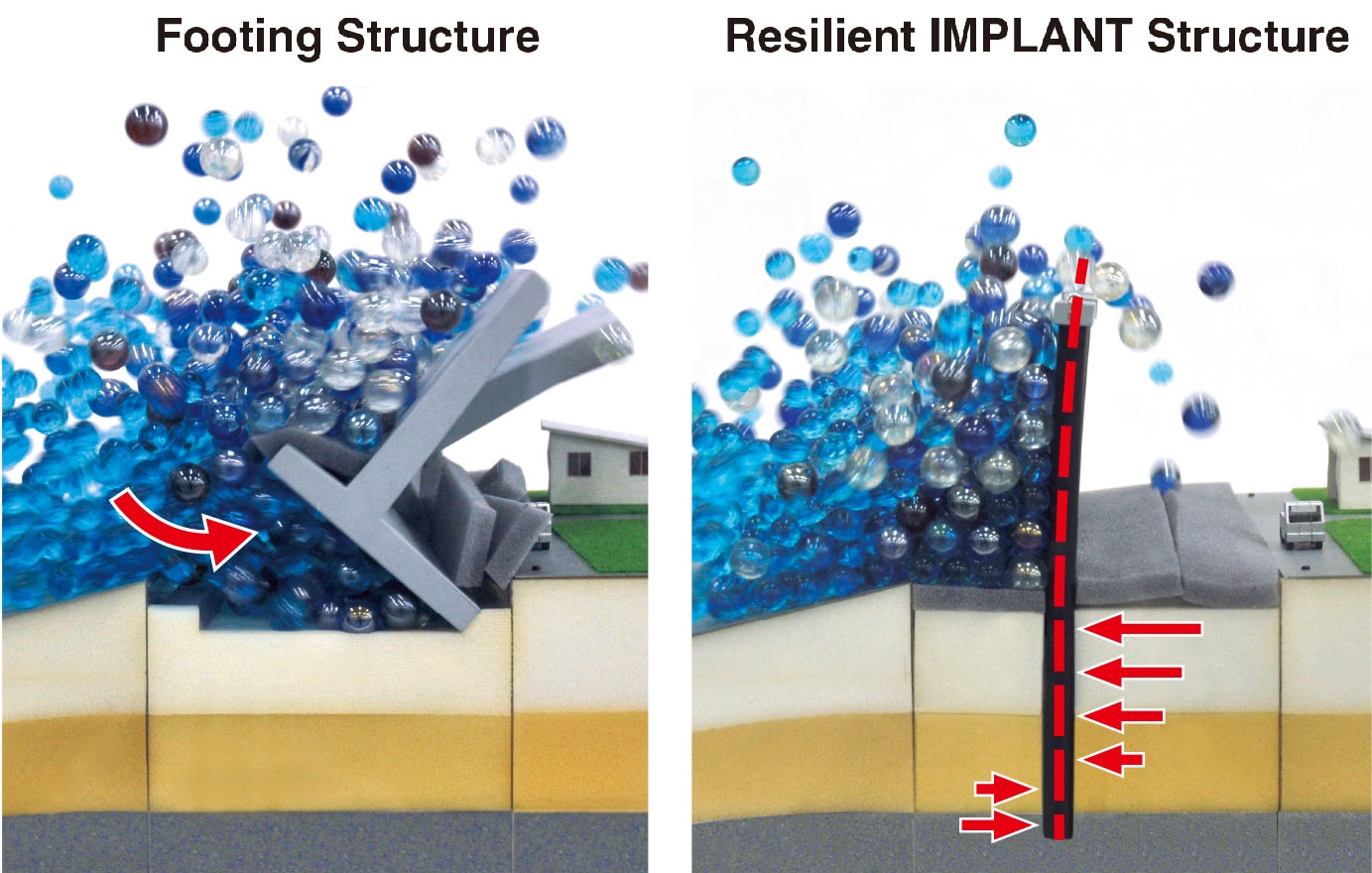 Preceded the earthquake by a decade, GIKEN advocated Implant Structure for levees instead of conventional footing structure. It was difficult for civil engineers to accept Implant Levee until the earthquake happened to prove fragility of conventional levees and resilience of Implant Structures. Thus in 2012 Implant Levee started to be adopted for national countermeasures against the forth-coming Nankai Megathrust Earthquakes.
Exposition of the Solution
Implant Structure (Principle)
Implant Structure consists of an allowable structural member that is combined with structural and foundation elements that are pressed-in the ground where they are securely supported by the Earth. The structure carries horizontal and vertical loads, using the "size of section" and "depth of penetration". As a result, it exhibits high strength as an aggregate having with individual allowable structural members that are supported by the ground. Therefore, it is highly resistant to ground displacement caused by the motion of earthquakes, tsunami, and other external forces, serving as a "resilient" disaster-prevention infrastructure.
Implant Levee (Application)
Implant Levee is an application of the Implant Structure for disaster prevention and mitigation. It has resilient backbones inside the levee body mainly filled by soils. Backbones are usually tubular pile wall or double sheet pile walls that are highly liquefaction-resistant. Outstanding functions of Implant Levee are illustrated in the previous section.


Implant Method (Construction)


Pile walls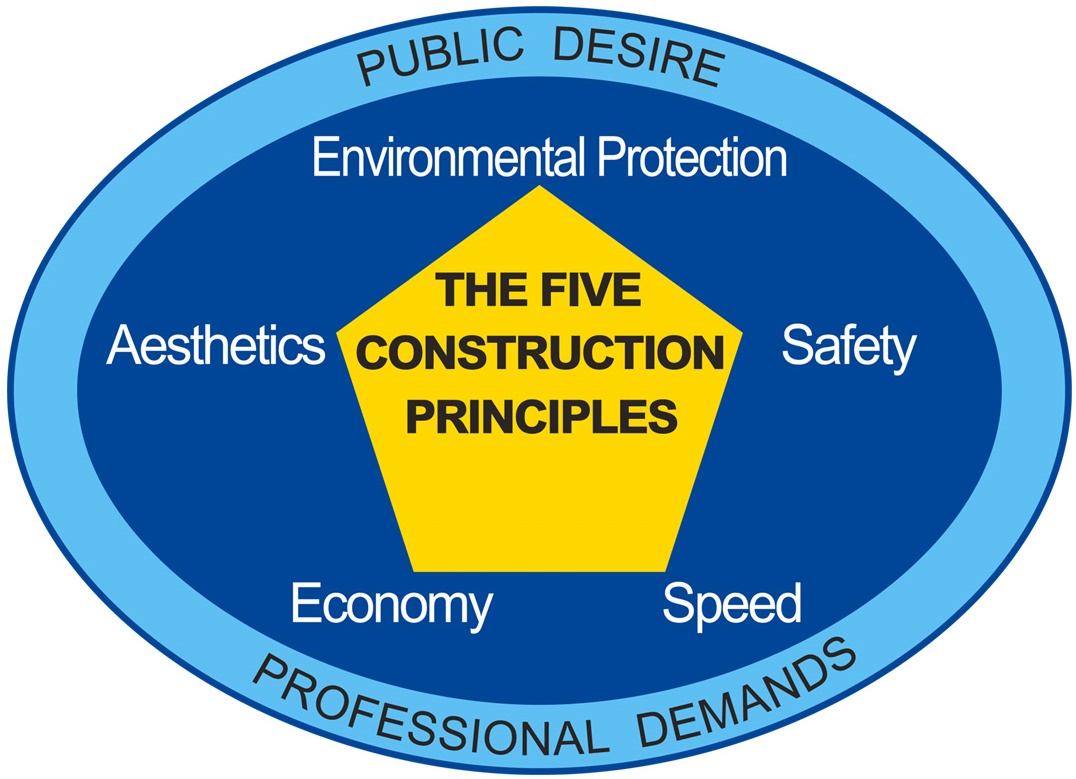 are constructed by Press-in Method that utilises reaction force derived from pre-installed piles to hydraulically push into the ground silently and vibration-free. As all necessary press-in machinery systematically works on the top of pile walls, it minimises working space and eliminates a need for temporary platform even on slope, unlevelled ground or above water. Thus the Implant Structures can be constructed whilst fully satisfying the Five Construction Principles, which include consideration of environmental protection, safety, speed, economy and aesthetics in the form of a balanced equilateral pentagon.
Achievements of Examples
Pevention is Better than Cure
Implant Levee is one of the most resilient levee structures because it was designed to protect lives of Japanese citizens against the forth-coming biggest ever Nankai Megathrust Earthquakes. Prevention is better than cure. The best usage of Implant Levee is to build in advance of disasters. Even if a disaster occurs before prevention works, the Implant Method can be operated as an emergency measure to cover the lost functions of infrastructures. And when ordinary infrastructures are damaged by a disaster, Implant Levee and other Implant Methods are the best way of recovery and reinforcement for further protection.
Recent Achievements
Kochi Nino, Nii, Tobara and Nagahama coast levee improvement project (Ministry of Land, Infrastructure, Transport and Tourism), Kochi Kokubu-river and Kuma-river levee improvement project (Kochi Civil Engineering Office), Toyohashi-shi tidal defence project (Higashi-mikawa Construction Office), etc.


Road retaining wall of national route 134 in Kamakura along Sagami Bay suffered aging degradation and has been renovated by Implant Levee without removal of existing road retaining wall (a left photo below). And in various "build back better" reconstruction projects in Tohoku regions after the Great East Japan Earthquake, Implant Levees were constructed to improve local resilience for future (right 2 photos below are projects in Iwate Prefecture).


Corporate Profile
16F Ariake Central Tower, 3-7-18 Ariake, Koto-ku, Tokyo 135-0063, Japan
Tel. :  
E-mail : projectgiken.com