《Member Companies' Topic》Nippon Koei Co., Ltd., Introduction of overseas brochure of geohazard management and Bosai Solution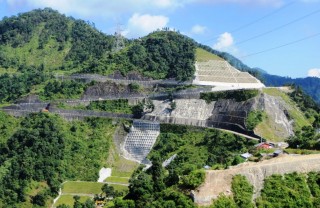 JBP introduces various
Bosai
Solutions of JBP member companies.
Today, we introduce about the overseas brochure of geohazard management by Nippon Koei Co., Ltd. who has conducted business in160 countries as a pioneer of construction consultants.
Bosai
solutions registered in JBP
Bosai
Solution Database by Nippon Koei will be also introduced.

"Act with integrity and contribute to society through technology and engineering"
Nippon Koei is Japan's No.1 International Engineering Consultants.
Their project managers and engineers provide strong engineering solutions for the clients by planning, designing and supervising construction of infrastructure projects in the fields of energy generation, transportation infrastructure, water resources, environment, disaster management, agriculture & rural development, urban planning & architecture, and social & economic consultancy.
In the field of disaster prevention and management (Bosai Field), Nippon Koei technical services to protect society from various disasters such as large-scale earthquakes, volcanic eruptions, and torrential rains in order to realize national land conservation and ensure people's safety and security.
Nippon Koei has staffed at branches and offices nationwide to provide community-based services, including emergency response during a disaster.
An overseas brochure of geohazard management technology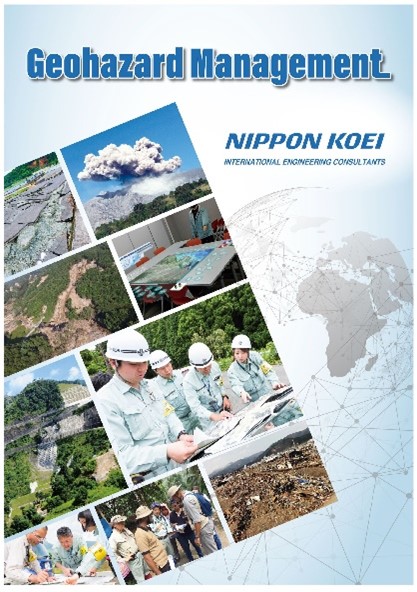 Recently, an overseas brochure of geohazard management by Nippon Koei (in English and Spanish) has been prepared. It will be used as an overseas business matching material in the future.
Download the brochure
https://www.n-koei.co.jp/english/ir/library/company-brochure/
Introduction of Nippon Koei's Disaster Prevention and management (Bosai) Solution
Three disaster prevention solutions have been registered in the solution database of Nippon Koei. Those solutions will be introduced in the following.
Landslide terrain interpretation technology by use of AI
Surveys and diagnoses in the fields of civil engineering and sabo are usually conducted based on the empirical knowledge and tacit knowledge of civil engineers. A typical example of it is the technology for interpreting landslide terrain. This is a technology that interprets the characteristic terrain at the site of a sediment disasters and predicts the risk of it. However, such kind of work tends to cause individual differences due to the experience of engineers, and the amount of work is also a heavy burden.
To solve this problem, Nippon Koei developed a landslide terrain interpretation technology by use of Deep Learning. By the technology, laborsaving in terrain interpretation and quick grasp of situation immediately after a sediment disaster became possible. Besides, it is believed that it also can contribute to reduce the omissions in high risk areas.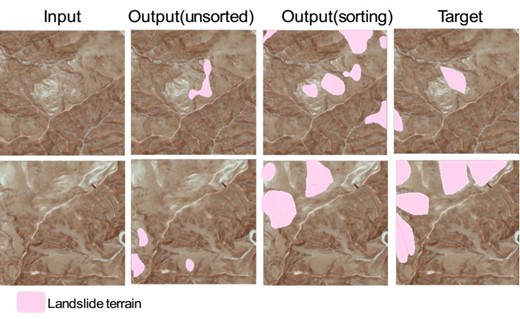 Slope greening method by use of BSC (Biological Soil Crust)
BSC (Biological Soil Crust) is a sheet-like colony of soil microbes formulated by soil particles and factures on the soil surface bound by filamentous bacterium, soil algae, lichens and moss. Nippon Koei has developed a vegetation recovery method to prevent slope erosion by spraying the BSC materials to the slope which facilitates the vegetation intrusion by the flying seeds from the surrounding area and help promote the introduction of greening.
For the sites by ordinal natural vegetation implementation methods, the implemented areas are prone to be eroded and damaged by flowing water. Comparing with it, as the soil algae used in BSC method well develop and grow especially along the water-flowing parts (i.e. rills, gullies), such algae in BSC method can prevent from expansion of erosion. Besides, by intruding the existing vegetative species, adequate and suitable vegetation will be recovered, which are suitable for the target areas. As the soil algae used in this method inhabit in all over the world: which is called as a cosmopolitan species, the environmental impact to the indigenous species. Due to clonal propagation, there are no gene disruption. Implementation costs of BSC method are cheaper and without additional works compared with ordinal natural vegetation intrusion acceleration method.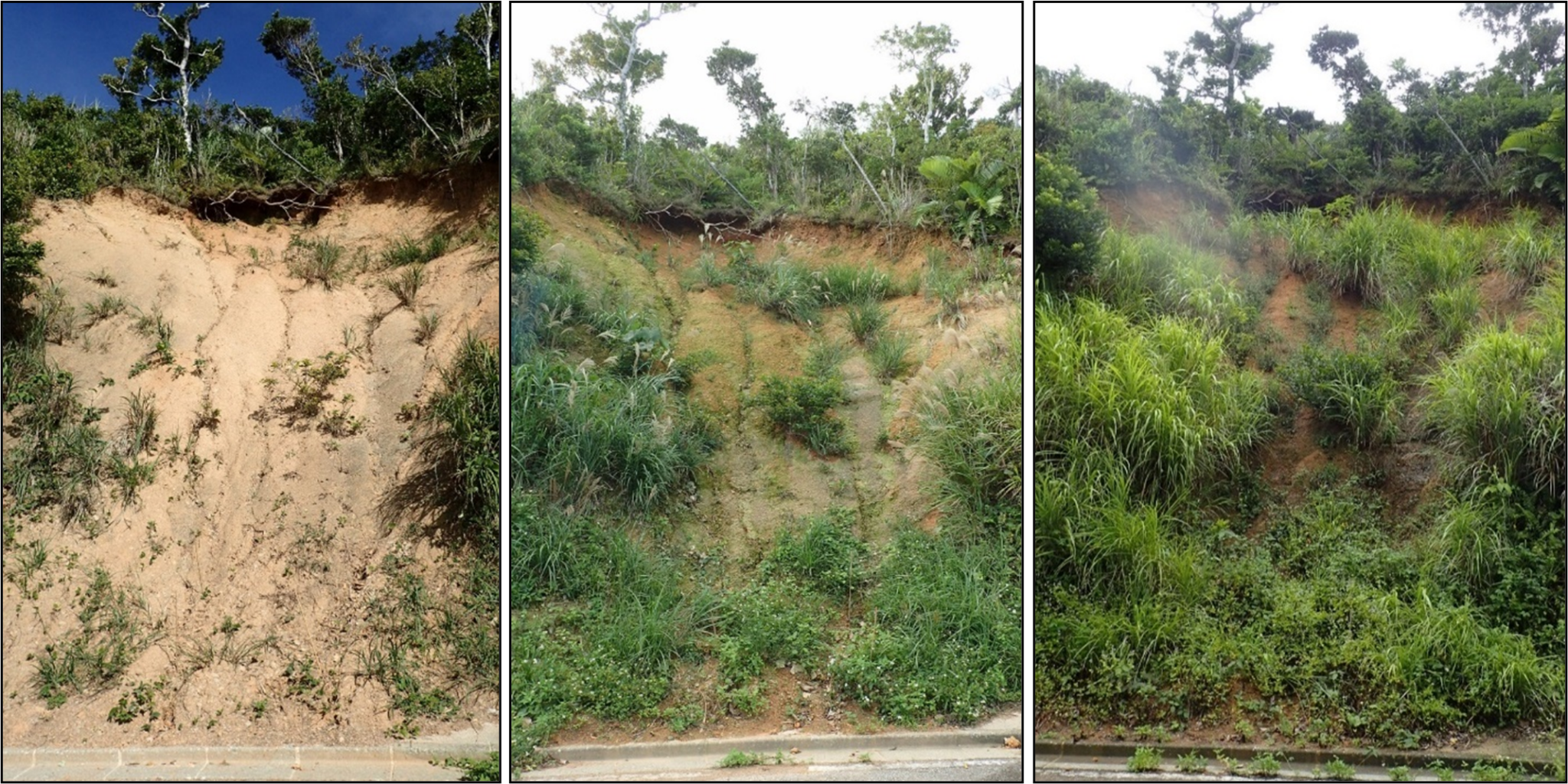 Slope movement monitoring service by use of SAR satellite
Nippon Koei provides a one-stop service of slope countermeasures from wide-range slope movement monitoring by image analysis of synthetic aperture radar (SAR) satellites to desk analysis, field surveys, countermeasure planning, and countermeasure design. By use of the archived images of SAR satellites, it is possible to confirm a wide range of previous slope movement.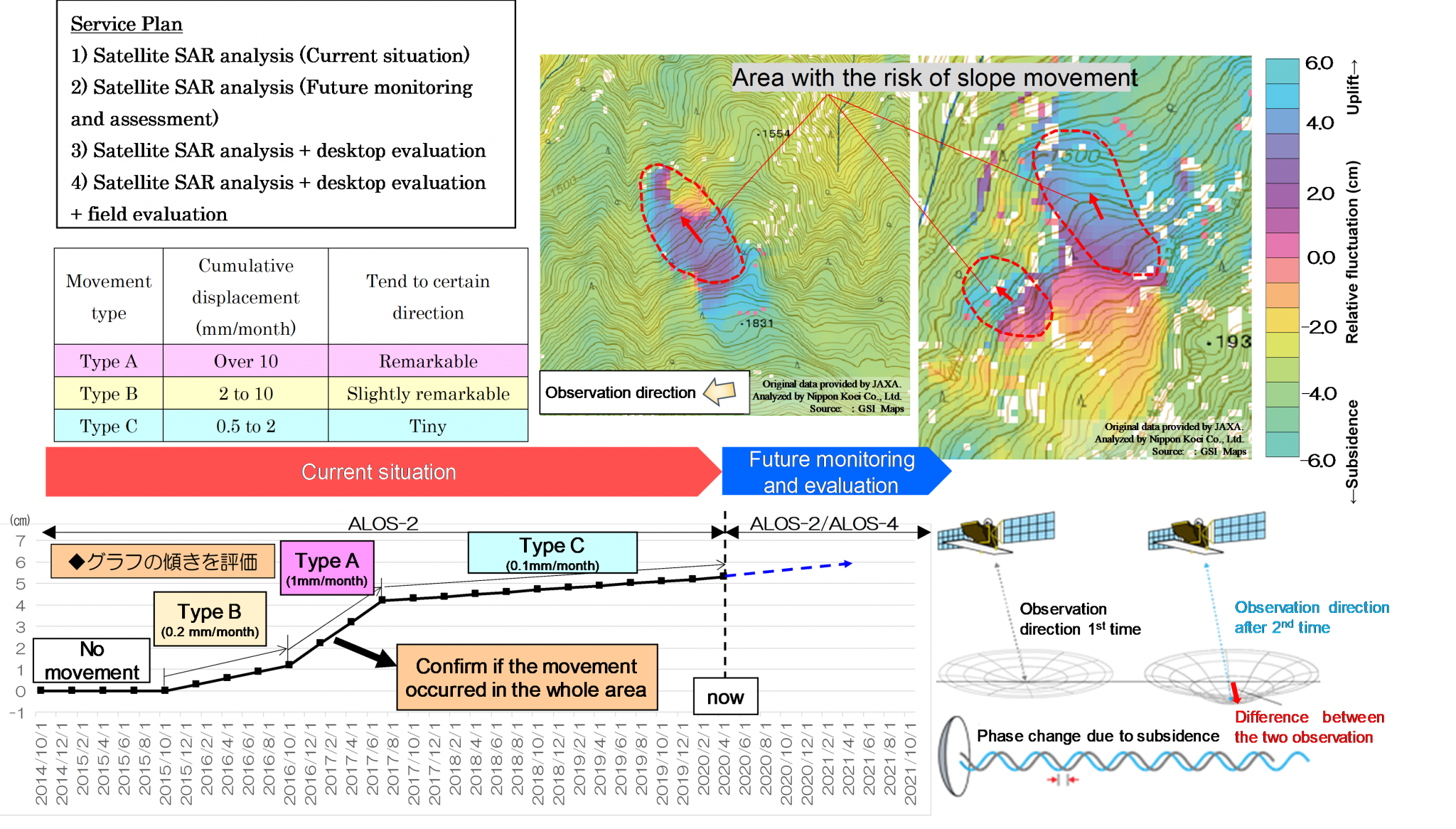 Introduction page of Nippon Koei in JBP website.
https://www.bosai-jp.org/ja/member/detail/46
Website of advanced technologies of Nippon Koei
Inquiry information of this article.
NIPPON KOEI CO.,LTD.
International Geohazard Management Dept.
Land Infrastructure Development Operations
5-4 Koujimachi, Chiyoda-ku, Tokyo 102-8539 JAPAN
+81-3-5276-7579
Mr. Tauchi tauchi-hr@n-koei.jp
Mr. Nishikawa nishikawa-ty@n-koei.jp

■ Related Bosai Solutions