Activities
JBP members participated in the "Workshop - Landslides-Flashfloods & Solutions for Sustainable Development" held in Hanoi, Vietnam
24 October, 2017
Task Forces
Vietnam Task Force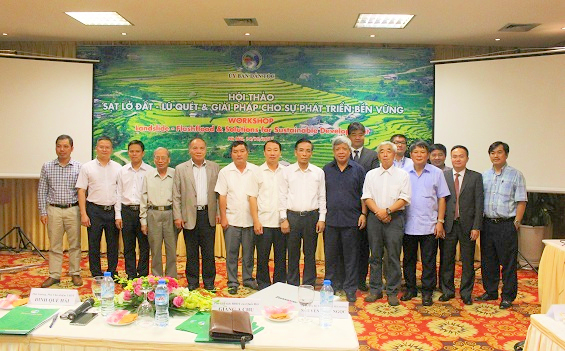 JBP members participated in the "Workshop - Landslides-Flashfloods & Solutions for Sustainable Development" held at the International Convention Center in Hanoi, Vietnam, on 14th Oct 2017, to share Japanese solutions for landslides and flashfloods. The workshop was hosted by the Vietnamese government's Committee on Ethnic Minority Affairs and was coordinated by Fecon Corporation.

There is an urgent need to develop countermeasures to mitigate the impact of numerous disasters such as landslides and flashfloods, especially caused by typhoons in the northern part of Vietnam. This is a motivating factor behind the holding of this workshop.

The workshop had participants from various sectors including several ministries in Vietnam (Ministry of Natural Resources and Environment, Ministry of Transport, Ministry of Construction, Ministry of Culture, Sports and Tourism, Ministry of Agriculture and Rural Development, Ministry of Finance), local governments of Lang Son, Son La, and Lai Chau located in Northern Vietnam, JICA – which implements Japanese ODA – several universities and academic institutes, and private companies.

There was a lively discussion among the participants. They agreed to work together to formulate and implement urgent countermeasure projects for preserving the lives and livelihoods of ethnic minorities living in the northern provinces.