Events
JBP shares bosai solutions with Indonesian government officials
28 July, 2017
Event Report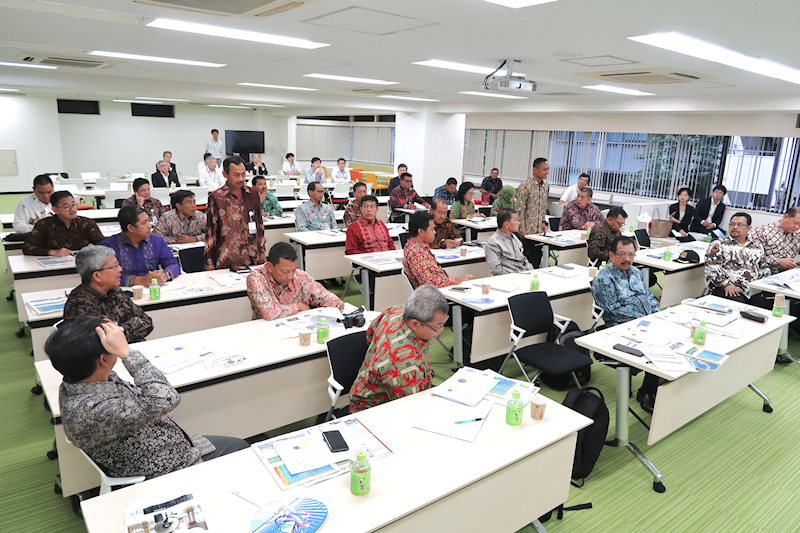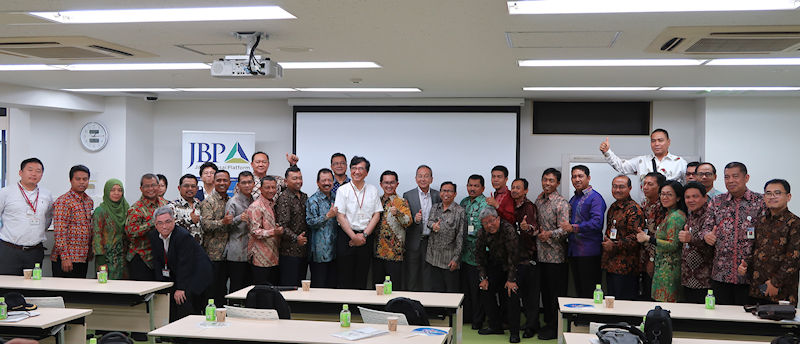 Japan Bosai Platform organized a seminar for 30 Indonesian government officials on 26th July in Tokyo, Japan.
We tailored our program to the needs of our guests, focusing on: 1) the role of private sector in bosai, 2) advanced technology of early warning systems and community resiliency, 3) experiences of the Japanese government.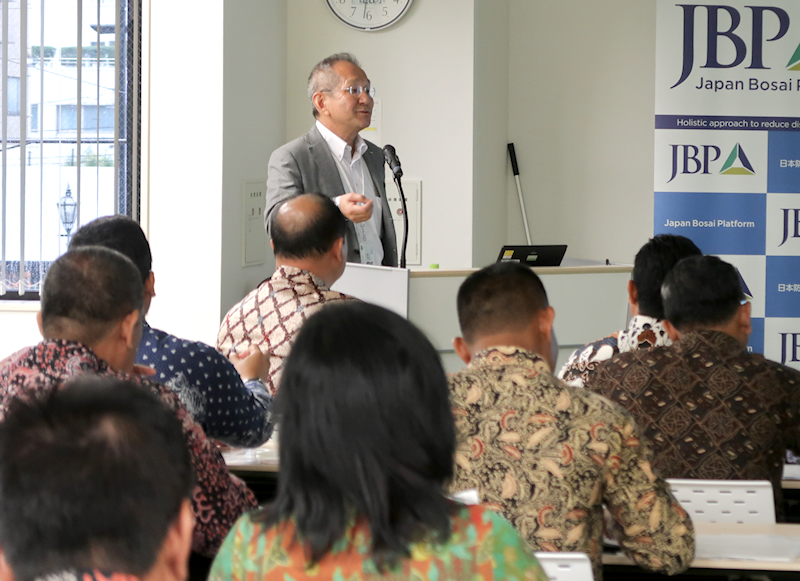 The participants expressed their awe at the impressive Japanese PPPs (public-private partnerships) after Mr. Doi, secretary general of JBP, explained the private sector's role in holistically reducing disaster risk, that is bosai. He introduced a good practice of pre-arranged post-disaster cooperation agreements for reducing risk, which are being highly evaluated both in Japan and overseas, as an example of Japanese PPPs.
For the second section, advanced technology of early warning systems and community resiliency, four JBP member companies gave presentations about their proprietary bosai solutions. They were: eTRUST Co., Ltd., Japan Radio Co., Ltd., TOA Corporation, and Kokusai Kogyo Co., Ltd.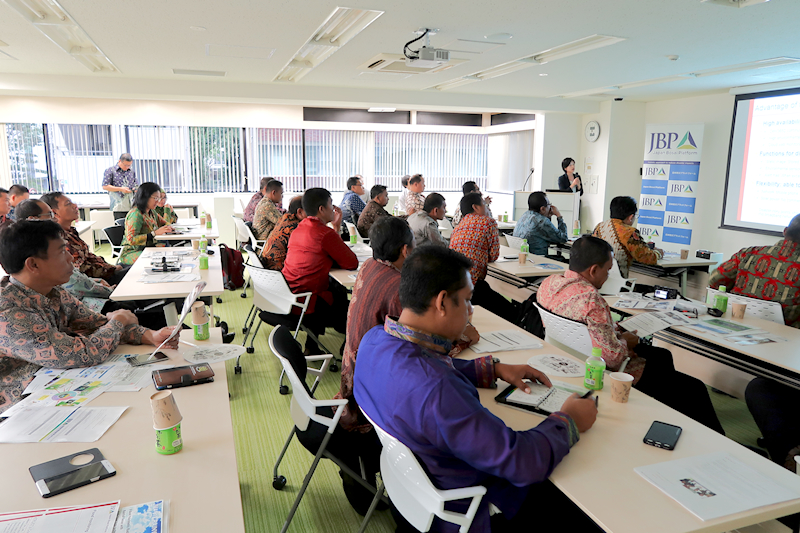 The presentations were well received. Including the one by TOA, whose name is synonymous with speakers in Indonesia because of their overwhelming market share. They demonstrated the sound of speakers outside using their simulation system to show that, depending on the location and quality of the speakers, although people can hear the warning, they might not be able to understand the vital message. This gave the participants an understanding of the importance of high quality speakers in early warning systems.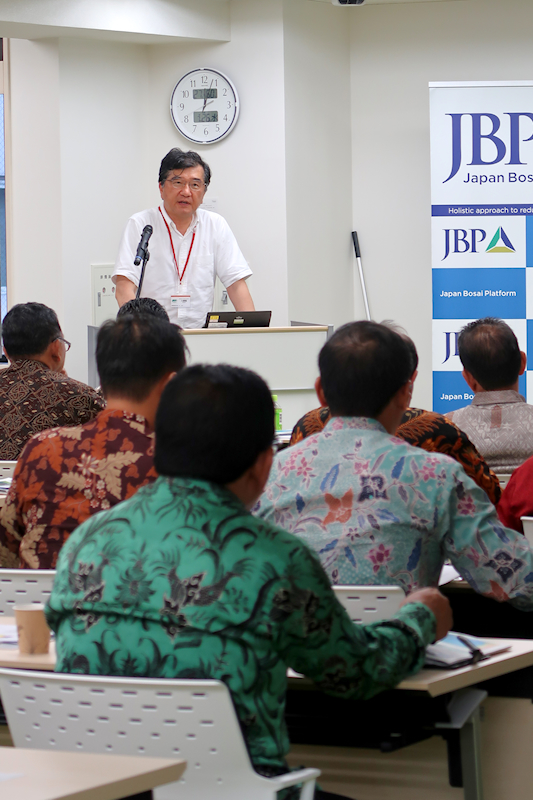 We were fortunate to have a whole hour lecture from Dr. Nishikawa (Executive Director of Research, Japan Center for Area Development Research) about the bosai efforts of the Japanese government.
He clearly explained how Japanese government has been working for bosai such as flood control projects since the era of Shingen Takeda (16th century) through to the present.
All Japanese ministries have their own bosai roles, and cooperation is key to overcoming the severe disaster risk in Japan. Dr. Nishikawa introduced examples of several ministries so the participants could easily understand what they should do in their respective ministries.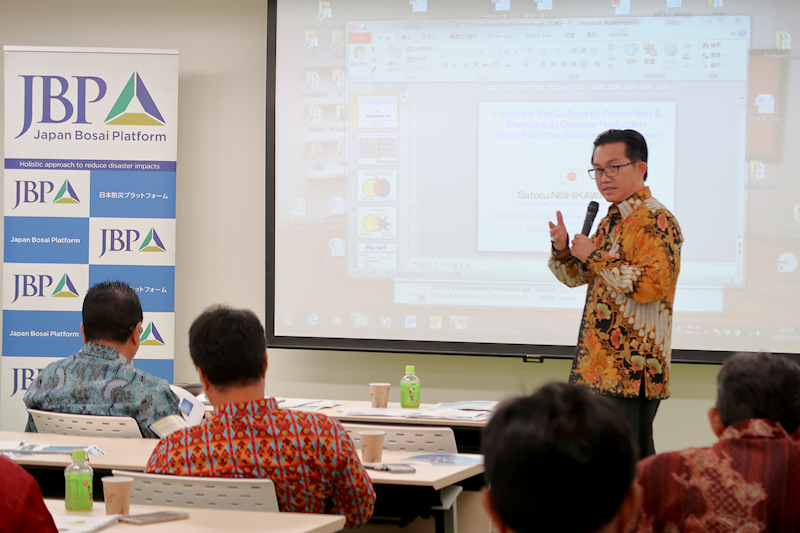 Participants were from 12 government sectors. They had some related training in Indonesia before coming to Japan to learn about community resiliency.
Promoting PPPs is a necessary element for making communities resilient.
We hope through cooperation between the public sector, to which the participants belong, and the private sector, such as JBP, Indonesia's bosai disaster resiliency will go from strength to strength.
★PHOTO REPORT★