JBP Member ID : M0026 Regular Member
FURUNO ELECTRIC CO., LTD.

Technology for Visibility
Since commercializing the world's first fish finder in 1948, FURUNO has supplied many types of products for the marine electronics market. By using its exclusive knowledge of ultrasonic and electronics technologies, FURUNO has developed a great variety of products that have been world firsts and Japan firsts. Especially, FURUNO produces several tens of thousands of marine radars a year and holds a share of over 40% of marine radar in the world.
Based on technology developed for marine electronic equipment, FURUNO is providing system solutions to support everyday safety and peace of mind by offering systems that predict meteorological events, such as sudden localized heavy downpours, with weather radar, and geological events such as volcanic activity and landslides using ground displacement monitoring systems.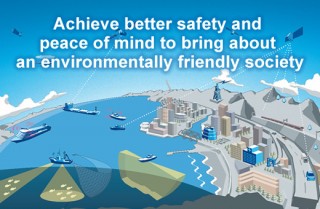 Industrial Classification / Corporate Specialty in the Classification
Development & Sales of Marine Electronics and Industrial Electronics products
Development & Sales of Marine Electronics products
Bosai Speciality
Major Bosai Solutions
Sales of Compact X band Weather Radar System
Sales of Ground displacement monitoring system
Corporate Profile
Date of Establishment : 23th May, 1951
Capital : 7,534 Japanese Million Yen
Numbers of Employees : 2905 / as of 29th February, 2016
Countries of Office Location :
Domestic: Hyogo, Tokyo, Fukuoka, Sapporo, Hachinohe, Ishinomaki, Kushiro, Yaizu, Hiroshima and etc. Oversea: USA, UK, France, Demark, Spain, Germany, Itary, Singapore, Indonesia,China(Shanghai, Hong Kong) and etc.
Last update: 07 August, 2018