JBP Member ID : M0014 Executive Member
Mitsubishi Research Institute, Inc.

The co-creation of a brighter future
Mitsubishi Research Institute, Inc. (MRI) was founded in 1970. Since that time, the MRI Group has consistently contributed to the development of numerous fields, including economics, public affairs, and science and technology, including ICT. We have built a solid reputation as an integrated think tank by combining our think tank and consulting services, including surveys, research, analysis, forecasting and systems design, as well as the proposal of management strategies and ICT utilization strategies, with our IT services, which encompass systems development and maintenance and outsourcing.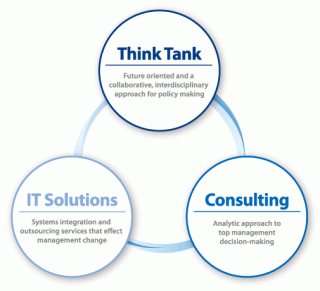 Industrial Classification / Corporate Specialty in the Classification
Think Tank and Consulting Services, IT Services
Policy and Public Affairs, Enterprise Management, ITServices
Bosai Speciality
Major Bosai Solutions
Regional Resilience Management
Building resilience applying space technology
Corporate Profile
Date of Establishment : 8th May, 1970
Capital : 6.3 billion Japanese Yen
Numbers of Employees : 4,011 (Consolidated), 930 (Non-consolidated) as of September 30, 2019
Countries of Office Location :
Japan
Last update: 13 April, 2020