Joint Zoom Webinar with FICCI (Federation of Indian Chambers of Commerce and Industry)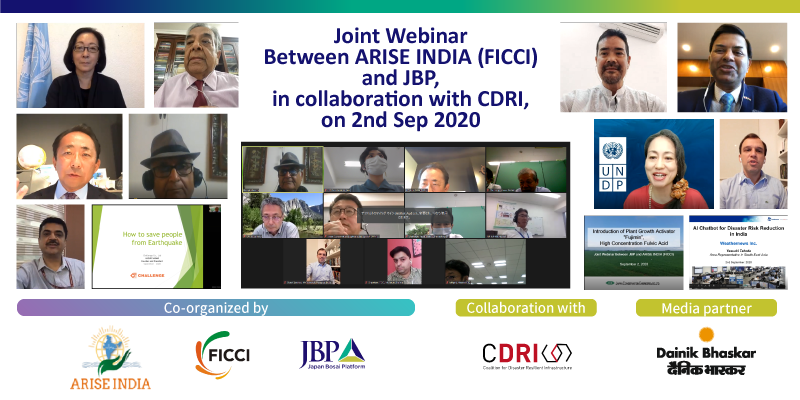 JBP is pleased to announce that we have jointly organized a webinar (first one on Wednesday, September 2nd) with the Federation of Indian Chambers of Commerce and Industry (FICCI), with which we have been collaborating for a long time as a venue for discovering new business opportunities overseas in the so-called "corona ravages" or "new normal" society.
This is the first of a series of three webinars, the second (on September 16) and third (on September 30) in the coming weeks.
To mark the first of the three webinars, we received congratulatory and supportive messages from Ms. Mami Mizutori and the Special Representative of the Secretary-General of the United Nations (UNDRR) from Geneva, as well as video messages of congratulations and messages of encouragement for the private sector cooperation of the JBP and FICCI in disaster risk management, which is worthy of global attention under the Disaster Management Agreement between the governments of Japan and India.
Date: Wednesday, 2 September, 14:00-16:00
Program Description: (Speakers available for viewing)
https://drive.google.com/file/d/1LIalOXNyCX8hjCPpyzz_L40rg6HQTbV3/view?usp=sharing
From The Indian Press: (Nagrik Dialogue)
(You can see each speaker's content condensed into a few lines.)
https://drive.google.com/file/d/1cZEDcQz8Td-9vm0g-p0evecwlz2MG9mr/view?usp=sharing
If you'd like to see Video Movie and presentation materials, please feel free to contact : secretariat@bosai-jp.org .
---
Executive Member Regular Member Supporting Member
To read the information, you need to login.
Sign in