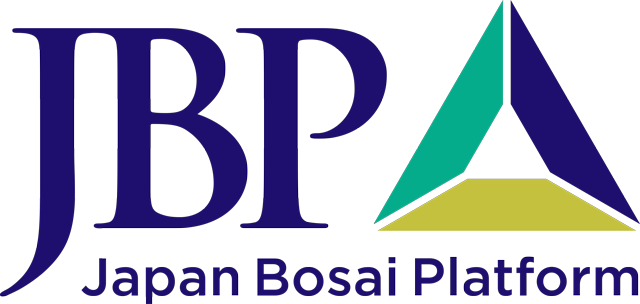 Bosai Solution ID : JBP00022

Human Sensor Solution
Disaster prevention information collection solutions that leverage smartphones
Advantages
Solution Overview
- Human Sensor Solution collects onsite data quickly and provides tailored information by using a low-cost smartphone application instead of expensive sensors.
- The solution can be used along with Fujitsu's information management systems such as river management, disaster prevention and traffic information.
Advantages
- The solution is less expensive and can be implemented faster than sensors.
- The solution collects large amounts of qualitative data regardless of time and location.
- Real-time information is displayed in tables, graphs, and images.
- Integrated information on the map helps grasp conditions of the entire area.
- Information can be shared easily between the administrator and reporters.
Solution Illustrated
The solution collects information easily by taking advantage of smartphone's mobility and usability.
1. All-in-one (camera, application, telephone, GPS, etc.)
2.Easy-to-use
3.Offline operation in areas without Wi-Fi connection
<Oparation>
- Reporters send onsite information (Observational data/picture/free comment) via smartphone.
- Data is sent to the data center with location information and date and time. Data can be analyzed and displayed according to the customer's business needs.
- The administrator can check onsite data and the actual situation graphically in real time.
- Collected data is sent to the administrator and citizens.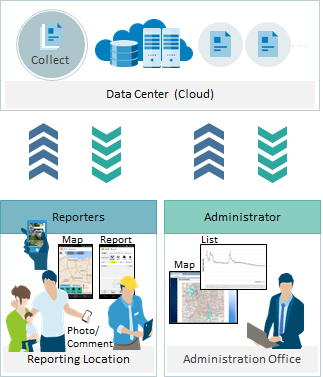 Background
For preventing disasters (BOUSAI) or for mitigating disasters (GENSAI), collecting and monitoring information regarding disaster incidence would be needed.
Also for disaster related informatin, quantity (variety, frequency) and quality (immediacy, accuracy) would be required, and appropriate judgement of disaster conditions and communication utilizing information would be needed.

But for developing countries, information for both BOUSAN and GENSAI are not enough in both quantity and quality aspects. Most of management methods are by TEL/FAX use analog style which take longer time for confirming, judging and reporting about data.

Also, even though censors and cameras are prepared by foreign funds, because of lack of maintenance and opereation budgets, those censors and cameras are not utilized because of mechanical accidents.
Therefore, for censors, mainteinabilities would be highly needed along with quality and quantily of information and lavorsaving.

Exposition of the Solution
Thừa Thiên Huế Province disaster prevention officials and managers at the Department of Agriculture and Rural Development can communicate using the smartphone's two-way communications application. In particular, to enable effective communication during times of disasters, the two-way communications application is equipped with features for disaster prevention officials to confirm their status and features to enable the Department of Agriculture and Rural Development to issue notifications.

By using the reporting screen of the application to input river water levels and rainfall amounts, the disaster prevention officials can easily report these measurements to the Department of Agriculture and Rural Development. They can also use that screen to send comments or images of disaster conditions during emergencies, such as floods or landslides, and they can also directly call Department of Agriculture and Rural Development managers on the phone.

The Department of Agriculture and Rural Development can use the notification screen on the application to input comments directly to recipient disaster prevention officials, making it easy to issue evacuation instructions. Likewise, disaster prevention officials can use the notification screen to confirm evacuation instructions from the Department, enabling them to give accurate guidance to local residents.
Achievements of Examples
River Management
- Observers send measurement data(river water level, rainfall, etc.) and a picture of the measurement site.
- By monitoring data, the river administrator can provide responsible organizations with necessary information so that they can judge if they need to issue an evacuation warning to citizens and/or dispatch a flood fighting team.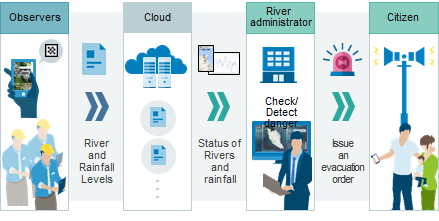 Disaster Prevention
- Disaster/accident reports from citizens are aggregated.
- The administrator can grasp onsite damages in real time and send the information to citizens.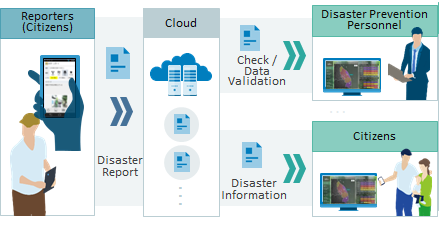 Traffic Information
- Probe data is collected from patrol cars automatically.
- Observers report unexpected events such as car accidents to the center.
- Collected probe data and road information are categorized properly and distributed to drivers as traffic information.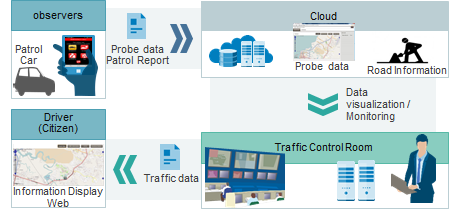 Corporate Profile
Shiodome City Center, 5-2, Higashi-shimbashi 1-chome, Minato-ku,Tokyo 105-7123, Japan
Tel. : +81-3-6252-2534
E-mail : y.kasamajp.fujitsu.com