JBP Member ID : M0021 Regular Member
Excelsior Inc.

The toilet used without water, electricity and any construction work for emergency and where there is no infrastructure
Since its establishment in 1997, our company has worked for developing and offering environment protection technologies, such as chemical methods to decompose dioxin and to detoxify soil contamination and incinerated ash. Then, in 2005, we developed and started producing the eco-toilets for emergency use during and after disasters. The toilet, named "Mr. Fuji Toilet", can eliminate bacteria's and odor from excretes with chemical tablets. The toilet can be used even in open space with a poncho which covers user's body for privacy. So far, we had procured eco-toilets to many business partners such as central and local governments, national defense forces, and major companies procuring infrastructure such as electricity, gas and communication, and banks. After Great East Japan Earthquake in 2011, the toilets were used in damaged area and appreciated by users as they are much odorless compared to other toilets provided by other companies. In 2015, financially supported by JICA (Japan International Cooperation Agency), we had experimental use of the toilets with temporally built booths where there was no water and electricity in Mongolia. The toilets could get good reputation from users in Mongolia. We also started experiment to produce fertilizers from excretes chemically treated in the eco-toilet. Our future plan is producing and procuring the toilet which could be for daily use as well as for emergency or for the place where there is no infrastructure.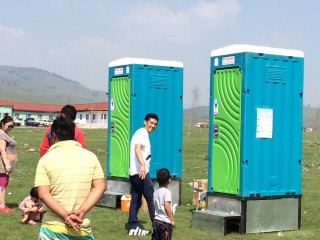 Industrial Classification / Corporate Specialty in the Classification
Producing portable toilets and toilets for outdoor use
Toilets and sanitary goods
Bosai Speciality
Major Bosai Solutions
災害用トイレ製造及び販売
防災用品の販売
防災計画の立案
Corporate Profile
Excelsior Inc.
3-30-2, Wakabayashi, Setagaya-ku, Tokyo 154-0023, Japan
Tel. : +81-3-5431-7341
E-mail : kan-ichiexcelsior-inc.com
Website : http://excelsior-inc.com/english/
Date of Establishment : 15th April, 1997
Capital : 28 million Japanese Yen
Countries of Office Location :
3-30-2, Wakabayashi, Setagaya-ku, Tokyo 154-0023, Japan
Last update: 27 April, 2017