JBP Member ID : M0128 Regular Member
MEIJI RUBBER & CHEMICAL CO.,LTD.

For the satisfaction of our clients and emploees we contribute to our society and world
Established in 1900.
As a pioneer of Industrial rubber production, we have persistently contributed to the industrial world with our everlasting resource of technology.
As a forerunner of the industry prior to the second world war, we have supplied industrial rubber products to numerous heavy industries and chemical industries.
While contributing to the development of the rubber industry, during the post war era, we had survived the chaotic times ahead of our competitors, absorbed the advanced technologies of the west, and took the central role in achieving the development of industries in Japan.
Currently, while producing in the rubber industry, we have expanded our business to the plastic industry, ever exhibiting our distinct color.
Our line of products, which are increasingly favored by industries in our related field, are manufactured in the highest quality, obtained predicting the necessities of our clients, ever experimenting for newer technologies, and continuously improving our productivity.
We are focused on continuously producing high quality/high end products, never forgetting our motto to widely contribute to our society.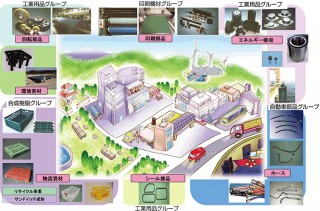 Industrial Classification / Corporate Specialty in the Classification
Manufacturing industry
rainwater storage/infiltration facilities and facilities
Bosai Speciality
Major Bosai Solutions
Sales of the storage and infiltration facilities of rainwater
Corporate Profile
MEIJI RUBBER & CHEMICAL CO.,LTD.
2nd FL, Nishishinjuku Sanko Bldg. 7-22-35 Nishishinjuku, Shinjuku-ku, Tokyo 160-0023, Japan
Tel. : +81-3-5338-4691
E-mail : y-miyagawameiji-rubber.co.jp
Website : http://www.meiji-rubber.co.jp/en/
Date of Establishment : 25th February 1900
Capital : 692,310,000 Jpanese yen
Numbers of Employees : 1,265 employed (Whole group) As of 31st March 2018
Countries of Office Location :
2nd FL, Nishishinjuku Sanko Bldg. 7-22-35 Nishishinjuku, Shinjuku-ku, Tokyo 160-0023, Japan
Last update: 16 April, 2019